Richard Ashdowne
Richard was the third Editor of the
DMLBS
, succeeding David Howlett in October 2011. Richard had previously worked for the project (since 2008) as an assistant editor, in which role he had been instrumental in developing the project's use of technology.
He grew up in Kent and came to Oxford to read Classics at New College, Oxford. He subsequently continued his studies in Oxford as a graduate student, completing a DPhil in Linguistics in 2007 with a thesis examining the linguistic structures associated with forms of address.
Before joining the DMLBS project, Richard was a member of the Language Teaching Team in the Classics Faculty at Oxford and had worked with the former Grocyn Lecturer, James Morwood, on several of his language teaching books, including the Oxford Grammar of Classical Greek, the Pocket Oxford Dictionary of Classical Greek, and the revised edition of the Pocket Oxford Latin Dictionary. In 2007 he and James Morwood published Writing Latin (Bristol Classical Press, 2007), an introduction to prose composition in Latin.
From 2012 to 2014 Richard was a Senior Research Fellow of Somerville College.
Since the completion of the DMLBS, Richard has continued to have responsibility for the text and for co-ordinating electronic publication plans. In addition to his work on the DMLBS, he has returned to work in classics and linguistics more generally. He teaches Latin and Greek language as lecturer at University College and remains a member of the Classics Faculty. He is also a member of the Faculty of Linguistics, Philology and Phonetics in the University and teaches linguistics as college lecturer at University College, Somerville College, Wadham College, and Trinity College. He is a consultant to the Oxford English Dictionary for linguistics. His principal research interests in linguistics are in language change, but especially in relation to semantics and pragmatics and with reference to Latin and the Romance languages. He is the Hon. Secretary for Membership of the Philological Society, the oldest society in the UK devoted to the study of language and languages.
David Howlett
David Howlett succeeded R. E. Latham as second Editor of the
DMLBS
in 1978. In over thirty years he oversaw the preparation of the major part of the printed text. He retired in October 2011.
R. E. Latham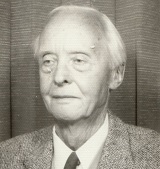 R. E. (Ronald Edward) Latham was the first Editor of the DMLBS, having previously edited the Revised Word-List.
Educated at Royal Grammar School Newcastle and having read Literae Humaniores (Classics) at Balliol College, Oxford, he had a long career in the Public Record Office, where he first became involved in the Dictionary project through his work on the Revised Word-List.
He began work as DMLBS editor in 1968 and had largely prepared the text of first three fascicules before his retirement at the end of 1977, when he was succeeded by David Howlett. In retirement he continued to provide invaluable support to the project.
In addition to his Dictionary publications he also published a number of other books, including In Quest of Civilization (Jarrold, 1946), and translations for Penguin Classics of Lucretius and Marco Polo.
He died in 1992.